After about two months what started as a simple port from Godot 2.1 to Godot 3.1 became a huge major update, especially to the Indiedev Bundle, previously Developer's Bundle. With a new way better and scalable code, more assets, a new original music with all editable files.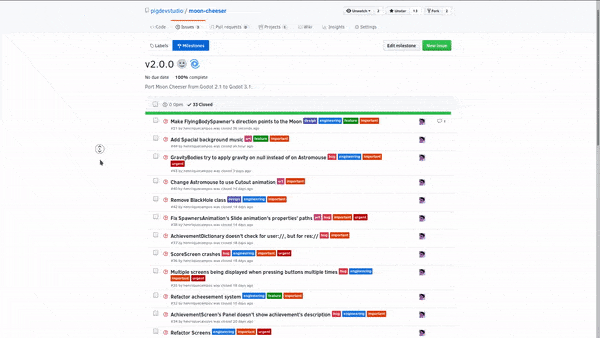 The game itself changed quite a bit as well I took rid of some of the known bugs, but most importantly I changed the animation direction for the main character, from a flat design frame-by-frame animation to a flat design cutout procedural animation, which allowed for a much fluid take.
On top of that the game now has some extra features compared to the previous version
Double Jump
When dragging comets/stars they will stay in place
Star with star collisions' supernovas, which used to be just a cosmetic, now pull cheeses towards it
That's it, thanks for all the support, keep developing and until the next time!

Files
Moon Cheeser Linux(appimage) x86_64
17 MB
Version 2.0.0
Apr 02, 2019
Moon Cheeser Windows x64
14 MB
Version 2.0.0
Apr 02, 2019
Version 2.0.1
Apr 03, 2019