Pigdev's Platform Template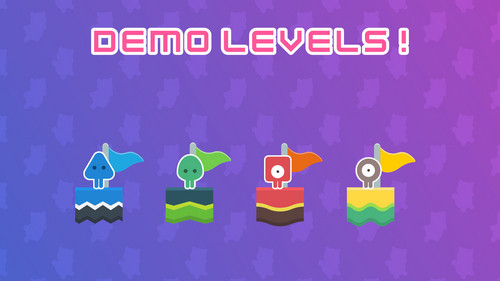 Hello there!
I'm very proud to announce that there are already 5 demo levels for the template, all of them use the default platform level template a .tscn with default Scene Tree Structure for platform levels which includes:
Collectibles
Enemies
Time constraint
Tileset
Miscellaneous
So I designed 5 levels to benchmark how well the template would behave in each of the use cases we presumed you will use it for.
Collect the collectibles
This level tests designs for collectibles oriented levels, e.g.: collect all the coins within the time spam
Clear the Area
A test for enemy cleaning oriented goals, e.g.: clear the enemies from the area
Test your Might
This one tests the player's skills with the character's movement, e.g.: reach the goal passing through obstacles
Time Attack
The forth one aims for a time attack level, where the player has to reach the goal as fast as possible, e.g.: rank up by reaching the goal faster than your opponent.
Multiplayer!
Due to the easiness I made the four demos above (everything was done within 2h of stream) I decided to add a multiplayer to test how easy it would be, and it turned out to be ggwp ez game. This one in particular has a simple concept: blue interact only with blue tiles, red interact only with red tiles.

All the graphical assets are made by Kenney, check out his itch.io page!

So, that's it guys!
Keep developing and until the next time!

Get Pigdev's Platform Template
Comments
Log in with itch.io to leave a comment.
This is seriously awesome stuff!

I'm loving it as well! I can't wait to see the awesome games people will make using it! *o*