Kitchen Tales
Kitchen Tales #1 - Sharpening My Knife Skills
---
Hey there, this week I was watching some courses on Skillshare and I decided to take a course about Improving Knife Skills, humbly speaking I cook very well, but I think we can always improve, right? So I did my homework and I put everything from this course into practice in my lunch during this week.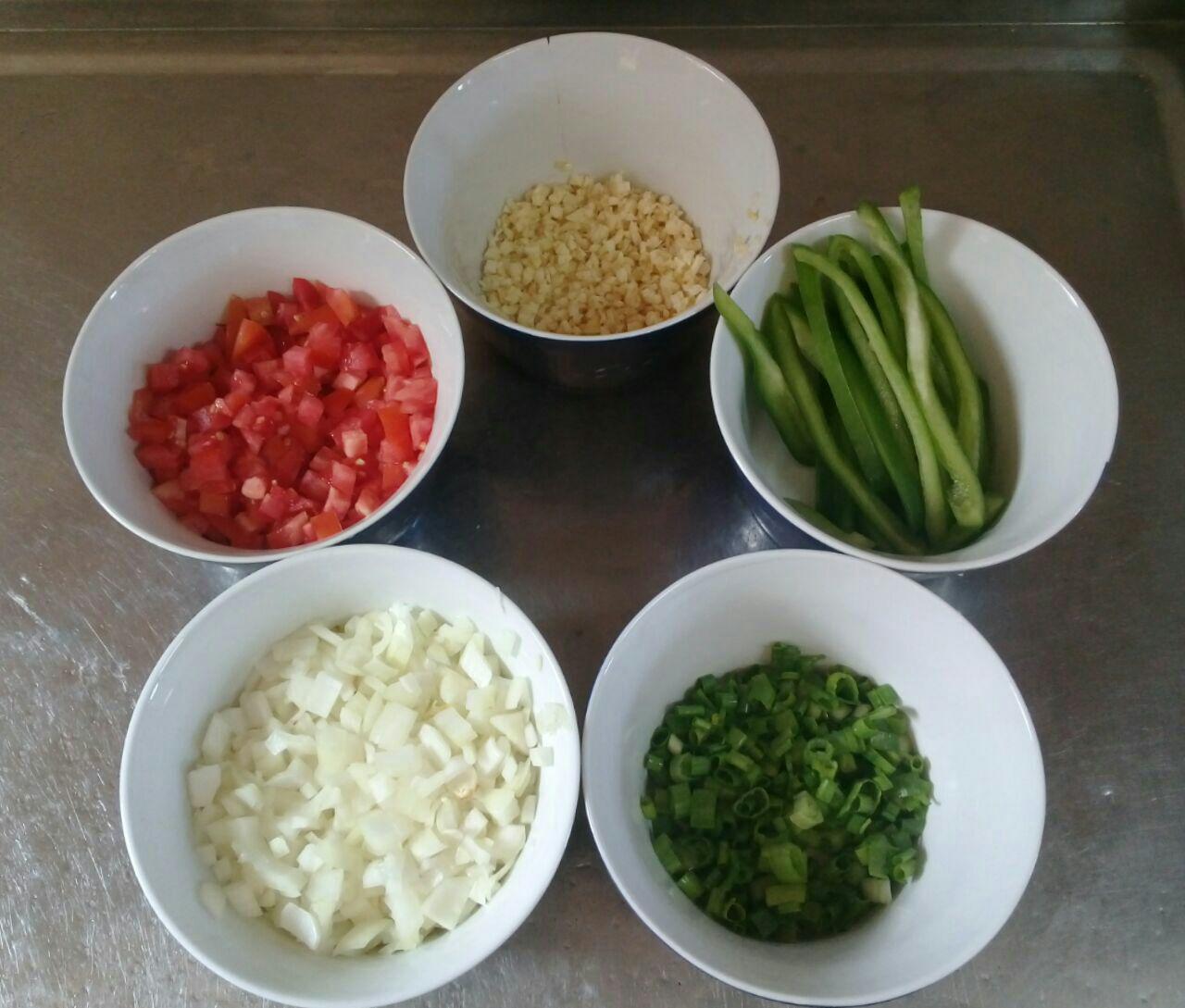 Something awesome about that is that I learned a new cut, the one you can see in the bellpepper's, it is called julliene. I had never used this cut before, so to me it seemed like just a lazy dicing at first.

But it turns out to really, I mean, REALLY, change the taste of the bellpepper. For the first time it didn't taste like just another ingredient in the sauce, it was a strong, rich flavour, as if I bbq'd it, and together with the tomatoes' sour and the onion's sweetness the sauce was extremely delightful.
As you can see I diced the onion and the tomato, sliced the chive and minced the garlic, on top of using the julliene cut on the bellpepper. Here, where I live, is not common to use different cuts, so we often just dice everything, fact being before that course I just used to dice the bellpepper. But I always opt to mince the garlic, which is also not very common in my culture, we often just smash it, or process it using a blender or a mixer.

A friend of mine told me that mincing is not very efficient, it takes longer than just smash the garlic. But just like the julliene cut completely changed the flavour of the bellpepper, by mincing the garlic I feel like the overall flavour is completely different, besides the texture is more crunchy and nice to chew.

Besides that, there is an extra gain in efficiency if you mince the garlic for further cooking, by mincing you keep the humidity and the texture of the garlic, using a blender will take out a good part of the liquid part of the garlic making a creamy texture that is very prompt to spoil.
This garlic cream tho can be interesting to use in some other recipes, for instance we have a special bread that uses this garlic cream, it is very tasty! We often grill it in barbecues, as an appetizer, but often it turns out as the main dish lol

In the end, it is all about how you will use your skills to create incredible recipes. Well, that's it for this devlog/blog? This was the first cooking devlog of Kitchen Tales, more are yet to come. I hope you enjoyed it! Let me know in the comments your experience with knives as well! No sensitive content, please! :P
That's it, thanks for reading. Keep developing, and cooking, and until the next time!